The Mokelumne River is so close to reaching Wild & Scenic designation! 

We need your help to make it a reality!

The California Natural Resources Agency (CNRA) has released for public review and comment a draft Mokelumne River Wild and Scenic River Study Report. The release of the report kicks off a 30-day public comment period that ends February 28, which includes a public meeting in Mokelumne Hill on February 15 at 6 pm. The is an important opportunity for the pubic to demonstrate support for the permanent protection of this magnificent river in the central Sierra Nevada.
Here's What You Can Do:
Attend a Public Meeting on Feb. 26th @ pm and Feb 27th @ 1:15 pm
Please attend the public meeting (2/26) or the Board Meeting (2/27) in Oakland at the EBMUD Board Room (375 11th Street, Oakland, CA). It is critical that EBMUD hears public support from us!
Submit a public comment by Feb. 28th
Public comments must be received by 5PM on Thursday, February 28, 2018. You can mail your comment letter to Joey Wall, California Natural Resources Agency, 1416 Ninth Street, Suite 1311, Sacramento, CA 95814. Or you may email your comment by the 5PM deadline to Joseph.Wall@resources.ca.gov. Feel free to use our sample email/letter (link below) and to personalize your comments, particularly if you have visited and enjoyed the Mokelumne River.
Send your email or comment letter by the Feb. 28th deadline in support of a Mokelumne Wild & Scenic River.
Read more…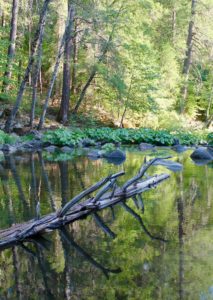 The draft study report finds 37 miles of the North Fork and main stem of Mokelumne River from Salt Springs Dam to Pardee Reservoir to be eligible for state protection as a Wild and Scenic River. The report determined that the Mokelumne possesses extraordinary scenic and recreation values and recommends to the California Legislature that it be protected in the state Wild and Scenic Rivers System. New dams and major water diversions are prohibited on state Wild & Scenic Rivers and state agencies are required to utilize their existing regulatory powers to protect the free-flowing nature and extraordinary values of the rivers. Modest local water diversions for local use are allowed provided that such diversions do not adversely affect river values.
The study report was required by 2016 legislation supported by Friends of the River, Foothill Conservancy, and other conservation interests, which directed the CNRA to determine whether the river was eligible and suitable for state protection. A final CNRA eligibility determination and recommendation will likely lead to the introduction of legislation to protect the Mokelumne in the state system. But local development interests who still dream of building a large dam on the Mokelumne or its major tributaries may dispute the CNRA's eligibility finding and recommendation and oppose any future legislation to protect the river. Which is why the public needs to speak out TODAY in support of protecting the river.
---
BACKGROUND
According to the draft CNRA study report, a 37-mile segment of the North Fork and main stem Mokelumne River from Salt Springs Dam to Pardee Reservoir is eligible for state protection due its free-flowing nature and extraordinary scenic and recreation values. Even though PG&E diverts some of this river segment into flumes and powerhouses to generate hydroelectricity, the Mokelumne is considered free flowing because Friends of the River, Foothill Conservancy, American Whitewater and other conservation interests worked hard to restore flows in the river for fish, wildlife, and recreation when PG&E's project license was relicensed by the federal government in 2001.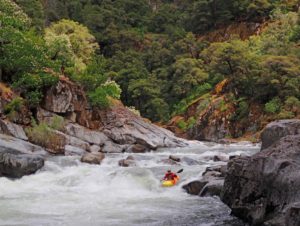 An important aspect of the report is the confirmation that state Wild and Scenic protection will prohibit future dams and major diversion on the protected segments, but many types of upstream water development would be allowed provided that such projects did not adversely affect the free-flowing nature and extraordinary values of the river. A state review of water rights applications on existing Wild & Scenic Rivers found that the impact on upstream water development or even modest instream development (such as small domestic water diversions) was negligible. Nor will state protection affect existing water rights, land uses, hydropower generation, river recreation, hunting and fishing, agriculture, grazing, or public land use. It will have very limited effect on private land timber harvest within 200 feet of the river.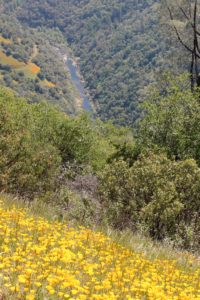 In its draft study report, the CNRA found the Mokelumne to possess extraordinary scenic and recreation values. The views throughout the river are particularly memorable and vivid due to the harmony and composition of vegetation, frequent rapids and pools, large boulders, exposed granite slab, and high and steep canyon walls. Such rugged Sierra landscapes with a pristine and lively stream are rare. The extraordinary scenery complements a wealth of river-based recreational opportunities in a remote, natural-appearing, and unspoiled area. The river offers many camping, fishing, hiking, and family-oriented day-use activities. It also is renowned for its diverse class II-V whitewater boating that ranges from the experts-only Devil's Nose wilderness run to the class II Electra segment where many beginning kayakers hone their boating skills. Whitewater recreation on the Moke has benefitted from improved flows, the availability of online flow data, and the construction of boating access points required by PG&E's federal license.
Unfortunately, the CNRA report does not find the Mokelumne to possess extraordinary wildlife values, even though the river flows through diverse ecosystems that support numerous sensitive and rare species, including foothill yellow-legged frog, Townsend's big-eared bat, southern long-toed salamander, western pond turtle, Pacific fisher, goshawk, and California spotted owl. The report fails to acknowledge that the Mokelumne is one of only four central Sierra rivers that still harbors the declining foothill yellow-legged frogs. It also ignores that the upper segment of the North Fork flows through a 182,273-acre Natural Landscape Block identified by state agencies to provide important connectivity for the state's migrating wildlife.
The draft CNRA study report concludes that the Mokelumne is eligible and suitable for state protection and recommends that the California Legislature enact legislation to add the river to the state system. The recommendation comes with special provisions intended to ensure that modest future domestic water development will be allowed provided that such development does not adversely affect the river. Although these provisions may be politically necessary to enact legislation, they are contrary to the report's finding that modest water development has indeed been permitted on many of the state's existing Wild & Scenic Rivers.
To review the draft study report and its supporting appendices, visit:
http://resources.ca.gov/programs-projects/wildandscenic/
For more information about the Mokelumne River or this alert, contact Steve Evans, email: sevans@friendsoftheriver.org; phone: (916) 708-3155.