Thank you for making Capital

River

Awards a success!

Check out the photos from the evening!
Capital River Awards 2017
When:

Wednesday, May 3rd, 5:30 – 8:00 p.m.

Where:

Capitol Plaza Ballrooms 1025 9th Street, Sacramento 95814

Why:

Support California Rivers and Have Fun!
Please join us for the 9th annual Capital River Awards will be held on May 3rd in Sacramento just steps from the Capitol at the Capitol Plaza Ballrooms. We will be honoring Senate President Pro Tempore Kevin de Leon and Assemblymember Laura Friedman for their efforts in protecting California's rivers. This festive evening is a great chance to re-connect with old friends and make some new ones all while supporting our treasured rivers and promoting their protection.
The Capital River Awards raises money to strengthen the voice of rivers at a critical time. Funds donated build FOR's grassroots capacity to protect our rivers from deadbeat dams and harmful legislation. We'll also be working to engage local decision makers, spark media attention and invite the public out to create their own memorable river experiences.
---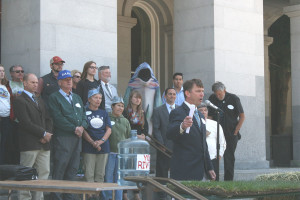 The party follows FOR's 3rd annual California Rivers Day  – a full day of education, outreach, and activism on the steps and lawn of the Capitol to raise awareness of the need to protect California's rivers. We are building public awareness and educating the state's political leaders in order to promote rivers, conservation, and smart water options for California. Your support will help make organizing this day possible. We expect 15 or more other California based river conservation organizations to be joining us for the day and so can you!
This year we Point Positive toward diverse water management solutions that are resilient in a changing climate. We have an opportunity now to promote real solutions while also defending rivers from some serious threats. SB 5 and AB 18 promote green flood control and address some lessons learned from the Oroville Crisis. While AB 975 strengthens the state level Wild and Scenic Act. Many other sustainable water use measures are being proposed to make water conservation a way of life in California (e.g. AB 1000, 1667, 1668 and 1669, Friedman).
We continue to monitor water and parks bonds so they don't become vehicles for destructive water projects as Prop 1 was in 2014.  We want to protect rivers from new surface storage such as Centennial dam and bills like AB 1369 that would require a 50% increase in storage by 2050.
---
All sponsorships include tickets to the event, recognition on event signage and on our website, and a mention of gratitude in our e-newsletter the River Advocate – reaching over 6,000 inboxes.
$2,500 – Waterfall with 10 event tickets
$1,500 – Wild & Scenic with 8 event tickets
$1,000 – Cascade with 6 event tickets
$500 – Whitewater with 4 event tickets
$250 – Tributary with 2 event tickets
Individual tickets are also available at the bottom of the form
To become a sponsor, buy tickets, or make a general donation toward these efforts click HERE!
Many thanks to our 2017 Sponsors!



Rainmaker

Yvon and Malinda Chouinard
Guy & Jeanine Saperstein

Waterfall

Morgan Tidalgo Sukhodrev & Azzolino LLP
Patricia Schifferle

Wild & Scenic


Camp Lotus | Bill & Robin Center
Howard Robinson
Ilene Starin & Will Lichtig

Cascade

American River Outfitters
Bob* & Faith Cushman
Corley* & Patty Phillips
Harriet Moss
Jann Dorman* & Don Ahlert
Jeff Depew* & Trish Hayward
Joe & Margarit Petrofsky

Whitewater

American River Outfitters
Doug Stadler
Richard Weiss*
Sue Ghilotti
Tuolumne River Outfitters

Tributary

Adventure Connection | Nate Rangel
Andy Karkoff & Jeanine Sternberg
Anthony & Margie Deriggi
Bettina Redway & Michael Picker
California Wildlife Foundation | California Oaks
Emily & Tim Matthews
Hotshots Imaging
Jenine Durland
Jennifer Huber* & Josh Cohen
John & Sandy Vanderpol
John Yost*
Johnnie Carlson
Julia McIver & Lance Gunnersen
Keith Miller/California Canoe and Kayak
Kevan Urquhart* & Carrie Theis
Lee Pope
Maravia Corporation
Mariah Expeditions
Marian Bender*
Mike Martell | Pacific River Supply
Nini Redway
Paul and Teresa Barth
Randy Armstrong
Riverside Chevron, Coloma, CA
Scott Armstrong*
Sierra Club California
Sierra Rescue | Julie Munger & Abi Polsby
Soluri Meserve, A Law Corporation
Tom Van Noord
Vincent Nibler

*denotes Friends of the River Board Member
Direct questions to Toby Briggs at tobybriggs@friendsoftheriver.org or (916) 442-3155 ext. 223