Join us at the Capital

River

Awards!

When:

Wednesday, May 18th, 5:00 – 7:30 p.m.

Where:

Capitol Plaza Ballrooms 1025 9th Street, Sacramento 95814

Why:

Support California Rivers and Have Fun!
Please join us for the 8th annual Capital River Awards will be held on May 18th in Sacramento just steps from the Capitol at the Capitol Plaza Ballrooms. We will be honoring Senator Ben Allen and Assemblymember Susan Eggman. This festive evening is a great chance to re-connect with old friends and make some new ones all while supporting our treasured rivers and promoting their protection.
Senator Ben Allen authored SB 637, a landmark measure to protect California rivers and streams from environmentally hazardous suction dredge mining by requiring that water quality and human health impacts be evaluated before such mining is allowed to take place. This destructive form of mining used predominantly in the Sierra Nevada harms stirs up mercury and other toxic pollutants and turns fish habitat upside down. Elizabeth "Izzy" Martin, CEO of The Sierra Fund, was a chief proponent of the bill who noted "miners who use suction dredging are a vocal and organized band. It really required a senator who was willing to fight tirelessly for water quality and the public interest to successfully carry and pass this bill."  We at Friends of the River couldn't agree more!
Assemblymember Susan Eggman is leading the charge to ensure the people of California have a voice on the proposed twin tunnels through the Delta. Her bill, AB 1713 which is currently before the legislature, prohibits construction of the tunnels unless expressly authorized by an initiative approved by California voters. This bill puts a spotlight on the irreparable harm the tunnels would do to the Delta and upstream tributaries to benefit one part of the state at the expense of another. More than thirty years ago, voters had the opportunity to vote on peripheral canal and, thanks to her leadership, they may be given the same respect this time as well.
We would love for you to join us!
The Capital River Awards raises money to strengthen the voice of rivers at a critical time. Funds donated build FOR's grassroots capacity to protect our rivers from deadbeat dams. This continues our efforts to target Interior Secretary Sally Jewell to protect rivers threatened by dams with an invitation to join us on an unforgettable river trip. We'll also be working to engage local decision makers, spark media attention and invite the public out to create their own memorable river experiences.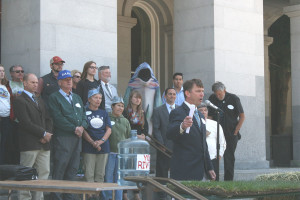 The party follows FOR's 2nd annual California Rivers Day – a full day of education, outreach, and activism on the steps and lawn of the Capitol to raise awareness of the need to protect California's rivers. We will be building public awareness and educating the state's political leaders in order to promote rivers, conservation, and smart water options for California. Your support will help make organizing this day possible.
All sponsorships include tickets to the event, recognition on event signage and on our website, and a mention of gratitude in our e-newsletter the River Advocate – reaching over 6,000 inboxes.
$2,500 – Waterfall with 10 event tickets
$1,500 – Wild & Scenic with 8 event tickets
$1,000 – Cascade with 6 event tickets
$500 – Whitewater with 4 event tickets
$250 – Tributary with 2 event tickets
Individual tickets are also available at the bottom of the form
To become a sponsor, buy tickets, or make a general donation toward these efforts click HERE!
Many thanks to our Sponsors!



Headwater

Guy & Jeanine Saperstein
Patagonia
Waterfall
Wild & Scenic

Howard Robinson
Ilene Starin & Will Lichtig
Cascade
American River Outfitters
Bob* & Faith Cushman
California Wildlife Foundation / California Oaks
Camp Lotus / Bill & Robin Center
Corley* & Patty Phillips
East Bay Municipal Utility District
Harriet Moss
Jann Dorman* & Don Ahlert
Jeff Depew* & Trish Hayward
Whitewater
Alison Harvey & Dave Loera
Doug Stadler
Granite Bay Flycasters
Joe & Margrit Petrofsky
Ken Weiss & Kathy Davenport
Kimberley Milligan
Restore Hetch Hetchy
Sue Ghilotti
Tuolumne River Outfitters
Tributary

Adventure Connection / Nate Rangel
Albert Houtchens Cabal
All Outdoors / Scott Armstrong*
California Canoe & Kayak / Keith Miller & Tammy Borivchesky
Gordon Becker*
Janet Maineri
Jenine Durland
John Yost*
John & Sandy Vanderpol
Johnnie Carlson
Jonas Minton
Kay & Monte Osborn
Kevan Urquhart* & Carrie Theis
Marguerite Young
Marian Bender*
Nola Marketing
Patricia Stow
Paul Barth & Teresa Cheung
Reed & Megan Minuth
Restore the Delta
Richard Weiss*
River View Financial
Sierra Club of California
Sierra Fund
Sierra Rescue
Sierra Rizing Bakery
Soluri Meserve, A Law Corporation
Tom Van Noord
Tony & Margi DeRiggi
*denotes Friends of the River Board Member
Direct questions to Mandi Garcia at mandi@friendsoftheriver.org or (916) 442-3155 ext. 214