Join us for 1 – 4 legs of a week-long paddle-a-thon 
along the

American River
from

Coloma to the State Capital
to

change the conversation about water in California.
Registration is closed.  Join us next year!
Paddlers are welcome to bring their personal crafts (kayaks, rafts, SUP, IKs, etc) or paddle with FOR guides and volunteers. BOAT TYPE indicates the kind of craft being provided by FOR.
Leg

|

Date

sECTION

Boat type

mEET UP LOCATION

Logistics

Leg 1 

|

August 6th 

Registration is closed for Leg 1.

Chili Bar to Camp Lotus
raft
Camp Lotus, Lotus, CA
P2C.August 6th

Leg 2

| August 7th 

Registration is closed for Leg 2.

Camp Lotus to Salmon Falls
raft
Camp Lotus, Lotus, CA
P2C.August 7th

Leg 3

| August 11th
Salmon Falls to Folsom Dam
thru paddlers only++
TBA
Contact Coordinator for details

Leg 4

| August 12th
Folsom Dam to Lower Sunrise
thru paddlers only++
TBA
Contact Coordinator for details

Leg 5

| August 13th 

Registration is closed for Leg 5

.
Lower Sunrise to Watt
 raft/canoe
 Watt Boat Ramp
P2C.August 13th

Leg 6

 | August 14th 

Registration is closed for Leg 6.

 Watt to Discovery Park
raft/canoe
 Discovery Boat Ramp
P2C.August 14th
++ Email the Coordinator to become a thru paddler. **Subject to change.
Registration
$35/person/day (members)
$50/person/day (non-members)
$25/youth/day (11-17 yrs old)

Click on the date above to register! 

Each paddler registers for the 1-4 days.

We challenge each paddler to raise $100 per paddle day to using their own customizable EveryDay Hero page!

Follow this link to build your own in 3 easy steps!
We're organizing this event to POINT POSITIVE to resilient water solutions. Together, we'll send a message to our state leaders that we can meet our water needs without destroying our rivers!
("Point positive" means the guide only points to where they want people to go (not towards hazards.)
Our goal is to raise $10,000 through P2C to support these solutions.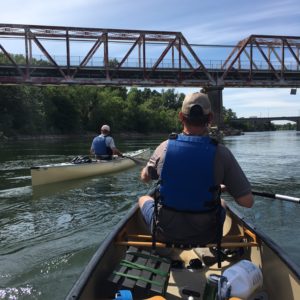 Getting our leaders out to experience rivers first-hand and learn more about what we can do to save them.
California Rivers Day—an event that brings more than twenty river groups to Sacramento to give rivers a strong voice in the Capitol.
The River Advocacy Training School—FOR's program to train the next generation of river advocates across the state.
Paddling down the American River to the Capital visibly demonstrates how our rivers connect us and builds support for better stewardship of this shared resource. Rivers, the lifeblood of our communities from the Sierra to the Sea, have been severely degraded for more than a century. Today, climate change is fueling increasingly severe drought that will push them beyond their ability to give.
Special Thanks to our Supporters!
Mother Lode River Center

–shuttle support

Adventure Connection

–shuttle support

American River Raft Rentals

–shuttle support

Squally's Resturant

–dinner support

Tom Biglione

–leading the Leg 3 & 4 teams
Mystic Design

–design

Emily Matthews & team

–communication support
Paddler Resources–

If you have questions, please email us or call (916) 442-3155 x223.