Speak Up For the Sacramento River and Against the Sites Reservoir Project
Two public hearings in early December about the proposed Sites Reservoir Project will provide the public an important opportunity to question the claims of project proponents that this massive new water project will provide "net environmental benefits." Proposed for the western Sacramento Valley near the small town of Maxwell, the Sites Reservoir threatens the Sacramento River and the many threatened and endangered species that depend on the river and its dynamic flow-based ecosystem.
The Sites Reservoir would be filled by significant water diversions from the Sacramento River. The project proponents claim that the diversions are relatively minor and will have no adverse impacts on the river. But this claim is based on inadequate flow standards for the river. During critically dry years, these standards will allow Sites diversions to take more than half of the river's flow.
Unfortunately, the "environmental benefits" claim appears to be little more than window dressing to secure public funding through California's water bond (Prop. 1). Ultimately, the Sites project means business as usual – more water exported south to grow lucrative almond orchards in the southern Central Valley and facilitate further urban sprawl in southern California. The project will be at the expense of Sacramento River's delicate ecosystems; its endangered salmon and other fish, riparian dependent wildlife species, and water quality. The bottom line is that the Sites project is simply too good to be true.
Take Action: Attend a Public Meeting 
Those concerned about the Sacramento River and the Sacramento-San Joaquin Delta have an important opportunity to comment on the Sites Project and its potential harmful impacts. Unlike previous public meetings, a court reporter will be present to record public comments. Meetings to receive public comment have been scheduled in:
Sacramento – December 5, Tuesday, 1-3PM, Embassy Suites, 100 Capitol Mall, Old Sacramento Ballroom. 

Maxwell – December 7, Thursday, 6-8PM, Sites Project Authority Office, 122 Old Highway 99 West, Maxell, CA. 
Please attend one or more of these meetings to question the claim that this expensive water project will provide "net environmental benefits." As one pundit has noted, "We cannot dam our way back to paradise."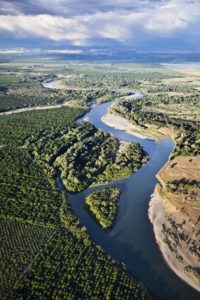 ---
Sites Project Background
Water agencies that comprise the Sites Joint Powers Authority (JPA) are working with the California Dept. of Water Resources and U.S. Bureau of Reclamation to promote the massive 1.8 million acre-foot Sites Offstream Storage Reservoir on the west side of the Sacramento Valley near the small town of Maxwell. The long-term average annual water yield of the project is estimated at 488,000 acre feet of water. About half of this amount would be allocated towards environmental purposes and the other half for consumptive water supplies. This project could cost more than $4.7 billion and about half the cost would be paid by state and federal taxpayers through the state water bond and the federal budget.
The project requires the construction of two large dams and nine smaller dams to flood the Antelope Valley and the small community of Sites on the western edge of the Sacramento Valley. Water to fill the reservoir would be diverted from the Sacramento River via existing diversions near Red Bluff and Hamilton City that service the Tehama-Colusa and Glenn-Colusa Irrigation District canals. A third diversion and canal downstream of Princeton would also be constructed to supply the reservoir. The reservoir and its associated facilities would destroy more than 15,000 acres of habitat and farmland. Diversions to Sites could reduce flows in more than 78 miles of the Sacramento River.
The public has been invited to review and comment on the Sites JPA's Draft Environmental Impact Report (DEIR) and the Bureau of Reclamation's draft Feasibility Report. The public may provide verbal comments at public meetings scheduled in early December (see schedule above) or submit written or electronic comments by January 15, 2018. Electronic comments may be emailed to EIR-EIS-Comments@SitesProject.org. Written comments may be mailed to Mr. Rob Thomson, Sites JPA, P.O. Box 517, Maxwell, CA 95955. Comments must be submitted on or before January 15, 2018
Key Issues To Raise At The Public Meetings:
The Sacramento River's environmental flow standards are inadequate to maintain the river's dynamic ecosystems, threatened and endangered fish and wildlife, and water quality. Sites proponents depend on these inadequate standards to support their claim that the project will not harm the river.
Every major dam and water project in California was promoted by water agencies and politicians as enhancing and protecting the environment. Decades later, the overall result has been salmon and other fish species declining towards extinction, extensive loss of wetlands and riverside habitat, and degradation of water quality. Demand that the Sites proponents prove to the public this project will be different!
The Sites DEIR admits that the project will destroy more than 15,000 acres of oak woodlands, grassland, wetlands, riparian habitat, and croplands, with significant unavoidable impacts on the protected Golden eagle, paleontological and cultural resources, and air quality (through generation of greenhouse gas emissions). Potentially significant impacts on rare plants and other resources appear to have been low-balled in the DEIR.
A major premise of the Sites Project's "net environmental benefit" depends on coordinated operation with Trinity, Shasta, Oroville, and Folsom dams on the Trinity, Sacramento, Feather, and American Rivers. The idea is that consumptive water supplies will be stored in Sites to allow the other dams to retain cold water to benefit downstream salmon and other endangered fish. By ignoring the likely adverse impacts of Sites diversions from the Sacramento River, the project proponents are proposing a classic "robbing Peter to pay Paul" scheme that borders on fraudulence. According to the DEIR, coordinated operations between Sites and other dams will on average "improve" salmon runs by a paltry 1.9-3.9 percent. And the public is expected to fork over billions of dollars for this "benefit."
Although a major amount of "environmental" water allegedly produce by Sites is allocated to maintain Delta water quality, there is little evaluation in the DEIR as to whether the water will successfully restore an estuary already degraded by major water diversions. The State Water Board estimates that the Delta needs somewhere between 35-75 percent of its previously unimpaired flows. There is no data in the Sites DEIS as to how project diversions and releases will achieve this standard.

---
Additional Resources and Key Project Documents
Sites DEIR/Appendices: https://www.sitesproject.org/information/DraftEIR-EIS/full.html?fullID=46438
Sites Draft Feasibility Report: https://www.sitesproject.org/information/FeasibilityReport/
Sites JPA Application for water bond funding to the California Water Commission: https://cwc.ca.gov/Pages/WSIP/SitesProject.aspx
For more information concerning this alert, contact Steve Evans at Friends of the River, email: sevans@friendsoftheriver.org; phone: (916) 708-3155.