We're Launching the RATS Resistance!
Join us in the Resistance.
Your contributions will support the work Friends of the River is doing
to ensure our rivers are protected from damaging legislation.
The Trump administration and members of Congress are pushing a truly disturbing anti-environmental agenda. In the U.S. House of Representatives, three Congressmen from California are leading an attack specifically on rivers: Jeff Denham, Tom McClintock, and David Valadao. Representing districts in the San Joaquin Valley and the Sierra Nevada from Tahoe to Kings Canyon, they want to fast-track dam building, take more water from the San Francisco Bay-Delta, and weaken protections for endangered species and clean water. Meanwhile, Mr. McClintock still wants to resurrect the Auburn dam project on the American River!
We can't let them get away with this!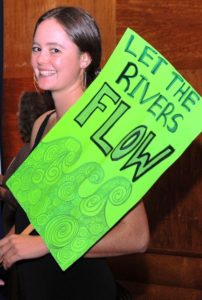 We're forming the RATS Resistance to hold these three Representatives accountable for leading the charge on river-destroying legislation and pushing new dams in California. You can support this campaign with a gift today!
What is the RATS Resistance?
Our River Advocacy Training School (RATS) has already trained 27 river advocates. These force multipliers have reached and engaged thousands of people throughout the state to build grassroots support for rivers.
In 2018, we will recruit 20 more RATS to organize local campaigns in these three key Congressional Districts to inform and engage thousands of constituents. They'll recruit volunteers, knock on doors, register voters, organize community forums, show up at town hall meetings and generate local media.
Our goal is to train 20 River RATS in January who will mobilize volunteers to put in at least 1,000 hours to make sure these elected officials hear loud and clear that their constituents want clean water, healthy rivers and a blue planet for future generations. To do this, we need to raise at least $40,000. Your support will ensure our organizers receive training from veteran campaign experts, and have the resources they need from leaflets and banners to clipboards and support from FOR staff.
With your support, we will protect our rivers from the Trump administration and members of Congress who see them merely as a resource to be exploited.
Other Ways to Give
Turn stock market gains into free flowing rivers.
Give stock or mutual funds that have gone up in value during your ownership over more than a year's time. You will get a deduction equal to the full value of the securities at the time of donation, rather than how much you originally paid for them, without paying a capital gains tax!
Click HERE for details on stock donation
Give the Gift of Time
Consider joining the RATS Resistance!
Are you fired-up about the current political situation and ready to take action?
We're accepting applications now through Dec 4th for the River Advocate Training School. The five month program begins with a four day intensive course to be held Jan 19-22nd, with monthly field trips and on-going support through May provided by FOR staff and the network of fellow RATS.
Click HERE to learn more or to apply.
Volunteer Opportunities
You don't have to join the RATS program to be a volunteer. There's plenty of work to be done, and we need your help! Contact our Program Director Toby Briggs to learn about upcoming volunteer opportunities tobybriggs@friendsoftheriver.org.