California Rivers Day 2017: 
Point Positive
May 3rd, 2017 | 8 am – 5pm
Over 20 organizations and almost 50 river advocates came together on May 18th, 2016 in Sacramento at the state capitol to raise awareness of rivers and advance real solutions to California's water woes for the second annual California Rivers Day.
Groups and advocates attended in our Legislative Breakfast where they learned the nuts and bolts of legislation and how to effectively educate public officials. They then ventured to capitol to hold the California Rivers Fair and participate in face to face meetings with legislators and senior staff on rivers and river issues.
Top of the list of issues was to advance a more refreshing approach to adding resiliency to ensure Water Now For California. This simple, straightforward mini-report outlines the path to cost effective and environmentally sensitive solutions that would yield almost 12 times the amount of new water for California than all of the proposed new and expanded dam projects combined. Just 5 solutions that would mean not only more water, but water that would available for use so much faster. FOR and our sister river organizations and other supportive environmental groups plan to continue to advance these solutions with reports on even more ways to improve California's water picture to come.
Email us to get in the loop for 2017's California Rivers Day: May 3, 2017 (tentative date)
Watch a video that highlights California Rivers Day and other 2016 river events and activities you can join in!
---
2016 Ca Rivers Day
Participating Organizations*
Adventure Connection, All-Outdoors, American Whitewater, California Hydropower Reform Coalition, Clean Water Action, Effie Yeaw Nature Center, Foothill Conservancy, Foothills Water Network,  Friends of the River, New Voices Are Rising, Planning & Conservation League, Protect American River Canyons, Restore Hetch Hetchy, Restore The Delta, Sacramento River Preservation Trust, Save the American River Association, Sierra Club California, South Yuba River Citizens League, Tuolumne River Trust
* Listing of all groups that tabled the California Rivers Fair and/or Participated in sign-on letters and visits. 14 groups participated in legislative visits in 2016.
---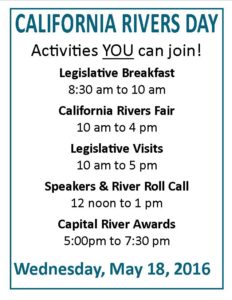 The 2016 California Rivers Day activities included:
Legislative Breakfast 8:30 am to 9:30 am The day will begin with a legislative breakfast steps from the capitol with a special guest speaker, issue presentations, and legislative visit roll plays. Legislative visit teams will get a chance to meet each other and practice before they make their fist visits together. The breakfast is free to all legislative visit participants – register now.
California Rivers Fair at the Capitol 10:00 am to 4:00 pm  Informational booths representing 20+ river organizations and river oriented businesses on the South Steps of the State Capitol. The event will be open to the public and Friends of the River will be promoting participation to its membership, as well as the general public, through grassroots organizers across the state conducting dozens of pre-event public gatherings, cleanups, and outings. The event will also include large visuals and activities such as banners, boats, games, music, and other creative visuals  that convey the value of healthy rivers for water quality, recreation, wildlife, and the economy. Are you a river related business or organization? email us to reserve your booth today!
Legislator & Agency Visits from 10:00 am to 5:00 pm plus drop-in visits From 10:00 am to 5:00 pm we will be scheduling legislator visits for participants with Assembly and Senate leadership and key committee members, as well as with legislators representing our threatened rivers and river organization present. Participants will travel and visit legislators  in teams and each will be set up to include experts, advocates, employers, and citizens from each member's district. Participating organizations can build their own teams and FOR can help plan, request, and coordinate your visits. Sign up now for May 18th visits here.
Noon Program & Press Event At noon, we will gather our participants for a short program and press event on the West Steps of the Capitol. Speakers, including a special legislative guest, will address how healthy rivers matter for all Californians. We will work to recruit additional supportive elected officials and state agency leaders to speak. A joining of the waters and roll call of rivers ceremony, and a call up of the river groups represented that day to introduce their leaders will follow this.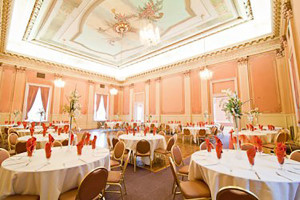 Capital River Awards Join us for our evening reception from 5:00 pm to 7:30 pm. The night features a short program on the developing threats to our rivers at the state and national levels and a special keynote speaker. Along with delectable food and terrific wine and beer, this event is a wonderful opportunity to socialize with old and new friends and support ongoing efforts to protect California's Rivers. Sponsorship starts at $250 and includes tickets to the evening reception – click here to learn more.
If you have questions, please email us info@friendsoftheriver.org. If you would like to register your organization please call or email Johnnie Carlson, California Rivers Day Coordinator at (916) 442-3155 ext 211 or email jcarlson@friendsoftheriver.org.