California Rivers Day 2017: 
Point Positive
May 3rd, 2017 | 8 am – 5pm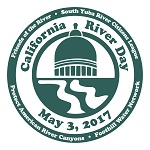 Thank you to all the advocates who came and shared their expertise to make the day a huge success!  Over 55 advocates lead and attended 38 scheduled meetings and made 57 drop-in visits to work for rivers.  Your work promoted an "Aye!" vote on AB 975.
Stay tuned as AB 975 continues to be challenged. In the meantime, check out the photos from the day!
California Rivers Day 2017
Agenda.
Point Positive toward diverse water management solutions that are resilient in a changing climate. We have an opportunity this year to promote real solutions while also defending rivers from some serious threats in the legislature.
The Point Positive agenda currently includes:
Acting on lessons learned from the Oroville crisis by promoting dam safety, repair and maintenance and 21

st

century green flood control for a warming climate. This ties into water and park bonds (SB5 and AB18) with more to come as the legislature and agencies review and respond to the situation.

Protecting our Wild & Scenic Rivers in the context of the Trump administration and threats in Congress. AB 975 will strengthen the state Wild and Scenic Rivers Act and make it more consistent with the federal law.
Promoting sustainable water use by making water conservation a way of life in California. There are several bills related to implementation of the Governor's Executive Order

B-37-16 such as AB1000, 1667, 1668 and 1669.
The defense of rivers agenda currently includes:
Ensuring water and parks bonds don't become vehicles for destructive water projects as Prop 1 was in 2014. While the democrats have a super majority in the legislature, several moderate Dems could hold a bond hostage until they get what they want—such as more funding for water storage.
Protecting rivers from new surface storage such as Centennial dam. AB 1369 would require a 50% increase in storage by 2050.
Participating Organizations

American Whitewater
California Sportfishing Protection Alliance
Environmental Justice Coalition for Water
Environmental Water Caucus
Foothill Conservancy
Foothills Water Network
Friends of the Eel River
Friends of the River
Keep It Wild – Merced River
Kern River Conservancy
New Voices Are Rising
Northern California Council of the Federation of Fly Fishers
Restore the Delta
Sierra Club California
Tuolumne River Trust
Foothill Conservancy
Pacific Coast Federation of Fishermen's Associations
Protect American River Canyons
Save the American River Association
South Yuba River Citizens League

 Sponsoring Organizations
The Schedule.
8:00 am—Meet at the Capital Plaza Ballrooms for the morning huddle/intro.
9:00 am-5:00 pm—Legislative Meetings. Registration is closed.

(Miss the morning huddle?  Find us at a table in the basement cafe in the Capitol Building.)

10:30-11:30 am—Legislative Briefing about: Oroville, Point Positive, flood management, current bills and associated information 
5:00 pm—Picture of all advocates on the East Stairs (reason: sunlight)
5:30-8:00 pm Capital River Awards. (Get your tickets or join as a sponsor!

)
---
Legislative Breakfast | 8:00 am to 9:00 am The day will begin with a legislative breakfast steps from the capitol with a special guest speaker, issue presentations, and legislative visit roll plays. Legislative visit teams will get a chance to meet each other and practice before they make their fist visits together. The breakfast is free to all legislative visit participants.
Legislator & Agency Visits | 9:00 am to 5:00 pm We will be scheduling legislator visits for participants with Assembly and Senate leadership and key committee members, as well as with legislators representing our threatened rivers and river organization present. Participants will travel and visit legislators in teams and each will be set up to include experts, advocates, employers, and citizens from each member's district. Participating organizations can build their own teams and FOR can help plan, request, and coordinate your visits.
Legislative Briefing | 10:30-11:30 am The Briefing will be held in a Hearing Room to explore the lessons from Oroville, how we can Point Positive, green flood management, current bills and associated information.  All Building staff are encouraged to attend and volunteer advocates are welcome.
---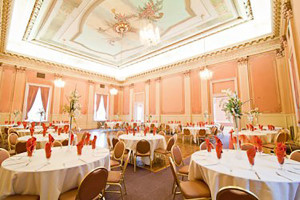 Capital River Awards Join us for our evening reception from 5:30 pm to 8:00 pm. The night features a short program honoring Senate Pro Tempore Kevin De Leon and Assemblymember Laura Friedman.  Along with delectable food and terrific wine and beer, this event is a wonderful opportunity to socialize with old and new friends and support ongoing efforts to protect California's Rivers.
Sponsorship starts at $250 and includes tickets to the evening reception – click here to learn more.
If you have questions, please email us info@friendsoftheriver.org.