3rd annual | 
a 5K run to spawn the next Generation
November 5th, 2016

| 

Rancho Cordova, CA 

Join Friends of the River for the 3rd Annual 5K Salmon Run, a fun run/walk to raise awareness and support for rivers and the fish and wildlife they sustain. You can run or enjoy a vigorous 5K walk!
To register click on the 'shoe-fish'!
When

Saturday, November 5th, 2016 | 8:30 am-12:30 pm

Where

Hagan's Community Park | 2197 Chase Dr, Rancho Cordova, CA 95670 | Picnic Area B2

What

A fun 5K run where runners encounter obstacles that salmon face.  The race starts with your hand in the American River and finishes with you tagging it again to remind us of the epic journey salmon take from ocean to river and back again! Afterwards, stick around for some tasty snacks and create your own salmon hat.

Plus photos with Wanda, the fish, our mascot for the event.  Try out canoeing—for free!

Bring

Wear comfortable running clothes, a water bottle and creativity for your salmon hat creating!

Why we run

The Salmon Run raises awareness about salmon, a critical indicator of river health, and builds our river community in a fun way.  The event also raises money to continue the work FOR does to protect rivers.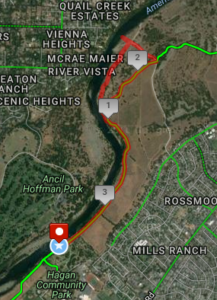 Route
The Run follows a section of river that Chinook salmon run each fall swimming from the Pacific Ocean through the San Francisco Bay-Delta up into the American River to their spawning grounds. We're running in the Sacramento Area in solidarity with the salmon to celebrate their incredible journey.
Route Start/End - Adjacent to Picnic Area B2 with your hand in the American River.
Best Costume Prize
Have fun with our fishy theme! Wear a fish costume—or make one! We will provide you with a fish hat on the day of the race. Earn the admiration of other runners with the Best Costume prize.
Friend-raising
Invite a friend to join you! We are friend-raising here too. Bring the "Whole School" and sign up as a team.
Have small friends who would love a day of fun? Our youngest runner/walker gets the Small Fry prize!
For more information, contact Toby Briggs, FOR Engagement Coordinator, tobybriggs@friendsoftheriver.org.