Join us for the Capitol River Awards
Capital River Awards 2018
When:

Wednesday, May 9th, 5:00 – 8:00 p.m.

Where:

Delta King Hotel, Paddlewheel Room 1000 Front Street, Sacramento 95814

Why:

Support California Rivers and Have Fun!
Please join us for the 10th annual Capital River Awards on May 9th in Sacramento at the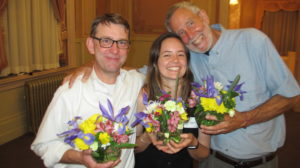 Delta King Hotel on the beautiful Sacramento River. This festive evening is a great chance to re-connect with old friends and make some new ones all while supporting our treasured rivers and promoting their protection.
The Capital River Awards raises money to strengthen the voice of rivers at a critical time. Funds donated build FOR's grassroots capacity to protect our rivers from deadbeat dams and harmful legislation. We'll also be working to engage local decision makers, spark media attention and invite the public out to create their own memorable river experiences.
---
The party follows FOR's 4th annual California Rivers Day  – a full day of education, outreach, and activism on the steps and lawn of the Capitol to raise awareness of the need to protect California's rivers. We are building public awareness and educating the state's political leaders in order to promote rivers, conservation, and smart water options for California. Your support will help make organizing this day possible.
---
All sponsorships include tickets to the event, recognition on event signage and on our website, and a mention of gratitude in our e-newsletter the River Advocate – reaching over 6,000 inboxes.
$2,500 – Waterfall with 10 event tickets
$1,500 – Wild & Scenic with 8 event tickets
$1,000 – Cascade with 6 event tickets
$500 – Whitewater with 4 event tickets
$250 – Tributary with 2 event tickets
Individual tickets are also available at the bottom of the form
Click Here to Sponsor, buy tickets or make a general donation
Direct questions about California Rivers Days to Toby Briggs at tobybriggs@friendsoftheriver.org or (916) 442-3155 ext. 223
Questions about sponsorships or the Capitol River Awards contact Brittney Schilpp at bschilpp@friendsoftheriver.org or (916) 442-3155 ext. 214