Join us out on the river! Come raft or learn to guide.

JOIN US ON THE RIVER
Raft with Friends of the River for a cause, learn about our river stewardship, and immerse yourself in nature for a day – it's good for you! Being in nature improves your mood, energy and over all well-being, after all.
Friends of the River's rafting trips are guided by trained volunteers usually rafting the Upper Section (Chili Bar) and Lower Section (Gorge of the South Fork) of the American River, perfect for all levels of paddler.
Rafting Trips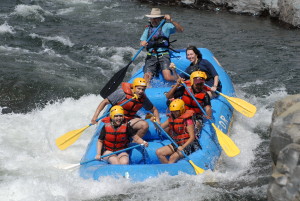 White water rafting trips are usually on Saturdays and/or Sundays, however weekday trips are sometimes a possibility.  FOR offers share cost trips (covering user fees and lunch). Share cost does not cover the many other expenses (gas, wear and tear on gear, staff time, camping or travel). We encourage paddlers to consider supporting FOR as a way to deepen our impact. Get outdoors for a cause? Yes please!
FOR offers two types of opportunities to come rafting with us.
Paddle to the Capital
Paddle to the Capital is a 6-day paddle-a-thon down the American River from Chili Bar to the confluence at the Sacramento River with trained FOR guides.
This epic journey raises awareness and funding for our work to protect rivers.  The event 'Points Positive' to sustainable water solutions for California.
Coalition Trips
Coalition river tips connect change makers to the magic rivers offer and to each other. To foster collaboration, FOR's guides lead trips in partnership with other organizations and decision makers who work to protect rivers. Most trips are on the South Fork American River, however we make some excursions to other destinations as well. If you are interested in partnering with FOR to organize a Coalition Trip, please contact our Engagement Coordinator to learn more.
Basic White Water Guide Training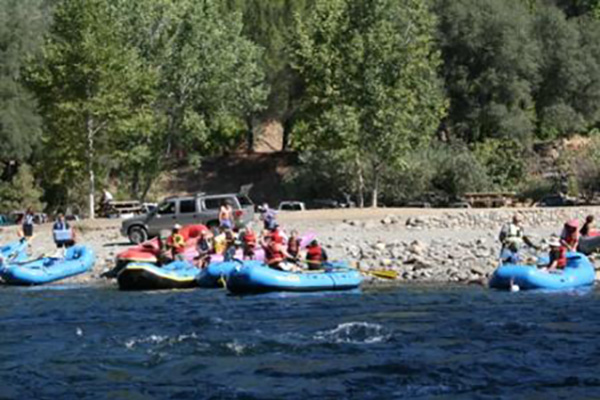 Each year FOR trains new whitewater guide an 11-day training, typically held in June. No experience needed.
Learn how to read a river, maneuver a paddle boat, move and store gear, gain a background on water issues and the history of rafting on the American River. You'll build and strengthen your leadership abilities, improve communication, and gain confidence all at the same time.
Due to highwater levels, FOR did not host a training for the 2017 season.  Please check back next spring!
Annual Gear Swap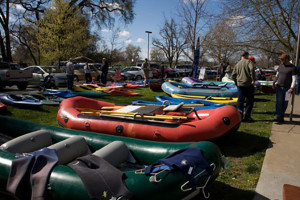 Fallen in love with rafting or kayaking and need some gear?  Join us to find some used gear to get you on the water!
Have some gear that needs a new home? Bring your gear to consign or donate it to FOR!
Held in early September each year at Henningsen Park Lotus Park. Contact the Event Coordinator for more information or to donate.
Float our boat!
Thank you to everyone who donated to raise over $3500 to purchase a new boat!
---