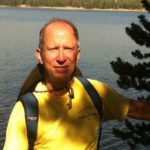 I've been kayaking rivers for over 38 years. I started when everyone's kayak was homemade!
Often the beneficiary of others conservation efforts, the current political climate made me realize the moment had come for me to contribute to the cause with time and energy, and not
simply monetary contributions. I believe together with FOR and other RATS, we will learn and execute strategies together that would have been impossible to affect alone. While my river running days may, or may not, be complete, our efforts will ensure our children and our children's children have the same opportunities we had.