Fire up your inner advocate!

Our rivers need us to stand up for them like never before!
We are recruiting advocates from across California for the RATS Resistance! Our rivers are threatened by the Trump administration and members of Congress who are pushing a truly disturbing anti-environmental agenda.
We can't let them get away with this.
Join us in the RATS Resistance!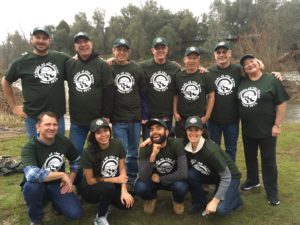 The River Advocacy Training School (RATS) trains people like you to advocate for rivers. The RATS Resistance is a statewide effort, but we are especially focused on three members of Congress who represent districts in the San Joaquin Valley and the Sierra Nevada, from Tahoe to Kings Canyon: Jeff Denham, Tom McClintock, and David Valadao. They want to fast-track dam building, take more water from the San Francisco Bay-Delta, and weaken protections for endangered species and clean water. Meanwhile, Mr. McClintock still wants to resurrect the Auburn Dam Project on the American River!
FOR is recruiting 20 River RATS this year to help organize local campaigns that inform and engage the public, in order to hold these three U.S. Representatives accountable for leading the charge against our rivers and the environment in general. At the same time, we will organize public pressure throughout California to make sure Senator Kamala Harris stands up for rivers as Senator Barbara Boxer did for more than twenty years.
The best advocates are people fired up about the current political situation, those who are ready to take action, to move the needle and are unafraid to talk about the issues facing California.
Program Overview
What you need:
Readiness and commitment to start a new project and adventure

"Fire in the belly" – a desire to make a difference and dig in

Time for 6-10 hrs/week to coordinate for the project

Creativity, resourcefulness, and the ability to manage multiple moving parts.
Demonstrated ability to be self-motivated and committed.
Excellent verbal and written communication skills
What we offer:
4-day intensive training located on the South Fork American River (food and lodging included)
On-going support from FOR staff and our networks of fellow RATS and volunteer leaders throughout the project
Gain life-long skills in advocacy from water leaders and community organizers
Join in a community of people committed to protecting rivers. Many RATS build long-lasting friendships and connections
2-3 Field Trips for enhanced learning throughout the 5 month period
Some travel and supply expenses, as needed*
*The training and on-going support do not have a tuition fee, however RATS are responsible for personal travel expenses to trainings and field trips. Please email us if this is a barrier to applying.
What you'll do: —January – May 2018—
Attend a 4-day intensive training to jump start your knowledge and skills (located in Lotus, CA)
Become knowledgeable about your legislator's voting record and priorities
Recruit, organize and coordinate volunteers to spread the word

Plan a kick-off volunteer event
Walk neighborhoods in your community to talk to fellow constituents
Write letters to the editor

Participate in voter registration efforts in your district
Get to know local media and reporters
Program Dates:
December 4th – Application deadline
December 15th – Invitation to select RATS
January 19-22 – Initial Training, Camp Lotus, Lotus, CA
Feb, Mar, Apr – Monthly field trips to deepen your experience and build community. (i.e. Legislative visits, canoe conservation outing, whitewater rafting, dam visits) – dates TBD at Training
May 3rd – California Rivers Day (CARD), Sacramento, CA (tentative)
When Advocates successfully complete the program in May we offer a chance to train during the summer as a canoe instructor or raft guide for FREE (up to $500 value)!
Meet our River Advocates!
Application Instructions
Submit an application and resume to:  tobybriggs@friendsoftheriver.org.
For more information, call Toby Briggs at (916) 442-3155 Ext 223 or email.
Note: Resumes are an opportunity to share your experience. If you have not updated your resume in many years or written one yet, please include a write-up sharing your experience history.